Invisalign in Los Angeles
If you are looking for an alternative to traditional orthodontic treatment to straighten your teeth, then Invisalign treatment may be the right option for you. The Invisalign system uses an innovative approach to straighten your teeth without metal braces. Instead of fixing metal wires and brackets to your teeth, the orthodontist uses aligners that are custom-made to gradually move your teeth to the proper position.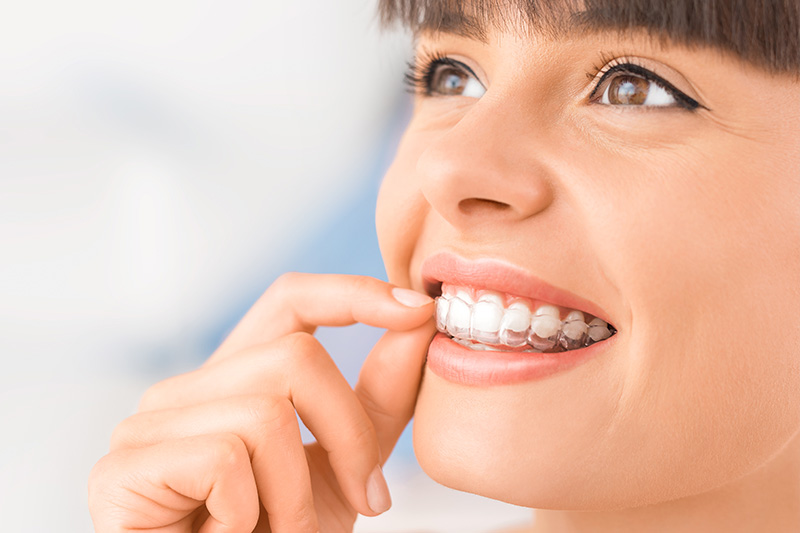 For years, people looking for a solution to straighten their teeth or correct problems associated with teeth crowding and a misaligned bite have had to rely on metal brackets and wires that are not only uncomfortable, but also unattractive and quite inhibiting in terms of what you can eat or how to clean your mouth.

With advances in dentistry, our dentists provide an alternative way to straighten your teeth without most of the negative aspects of traditional metal braces. The Invisalign system requires you to wear a series of custom trays made from smooth, translucent material that is specially made for wear over teeth.

Each set of aligners moves your teeth incrementally for a period of two weeks, and replaced by the next set of trays in the series until the completion of your treatment in 6 to 18 months depending on your case.
Benefits of Invisalign
Invisalign has become increasingly popular in recent years for several reasons, including: Discrete way to improve your smile without anyone knowing

Removable aligners - so you can maintain your diet and dental cleaning routine

Fewer visits to the dentist - dental visits are placed at 6-8 week intervals to assess the progress of the treatment and to receive your next 3-4 sets of aligners